From designing a model to crafting it, one brand that has kept everything in balance and up to the mark is G. Loomis. The brand that started as a handcrafted rod seller in Woodland, Washington, is still going strong after almost four decades. It is trusted by great trout anglers worldwide.
The brand offers all kinds of casting, trolling, spinning and fly rods. They also have a section devoted to the exciting accessories to pair with your fishing rods. Their devotion to the craft is evident through many adaptive and dynamic rods they have produced and improved over the years.
New G. Loomis rods feature GLX technology. This technology has taken the fishing world by storm, which is why these roads are priced a little above the market. GRX is 100% graphite material and is also highly regarded in the aerospace industry. According to sources, GLX levels of performance are limited to the G. Loomis as other rod manufacturing companies haven't accessed it yet, making these rods one of its types.
Let's peek into the store to get you the five best G. Loomis trout fishing rods.
1. G. Loomis Trout Series Spinning Rods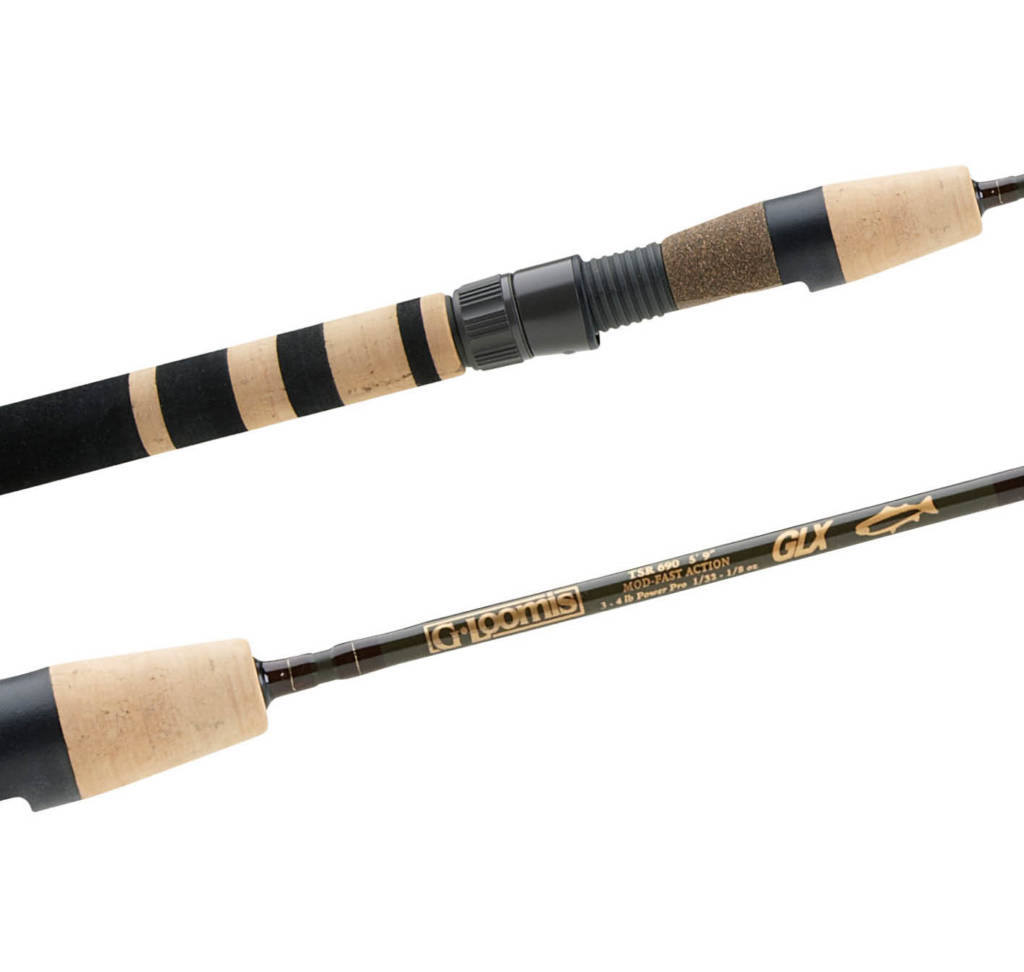 Specialized rods for fishing trout
Have both; 1 and 2 piece rods
Sensitive tip to detect subtle bites
Blanks with different fiber blends
Highly durable rods
Acknowledging trout anglers' commitment, G. Loomis has put forth a brand new series just consisting of trout rods that are crafted with much warmth and care because it knows that heavy, chunky gear doesn't reciprocate well with trout.
Four rods in the series are available in GLX. The series also includes fast and moderate fast action rods, making them a perfect trout fishing gear. The smallest rod in the series is 5 feet 2 inches, and the largest on the chart is 7 feet 6 inches. All the rods are either light or Ultra-light; has a lot of backbone. The minimum weight line they support is one, and the maximum line weight these rods are optimized are for is 6.
We have put them on No.1 because these rods have the highest grade of quality and sensitivity. They can take trout in a blink of an eye. The blank fibers are blended to get maximum output from a rod and with GLX levels of performance; these rods are optimized for all conditions and situations. We can confidently state that this is one of the best G. Loomis trout fishing rods.
They won't break or creak!
Recommended Model: TSR801-2 GLX
2. G. Loomis NRX+ Trout fly rod
Cork blended handles
Varying rod sizes
Ultra-light and Light power rods
Includes 1-piece and 2-piece models for easy shipping
Ideal for fishing trout with Marabou jigs
G. Loomis NRX+ fly rod took the inspiration from G. Loomis Trout Series. Its well-thought design has all the right features for a trout catching gig. So, what is unique to this series?
These series feature NRX+ graphite. The brand blends different materials to pursue high modulus and high-strain material that offers high feasibility to the angler and adds robustness to the rod. In this manner, the G. Loomis NRX+ fly rod is sensitive in action but highly tensile.
These rods ease the job of an angler by its fast action and Ultra-light/ Light power. The price for these rods is fairly high but considering the incorporation of the finest materials and high technology, it might just be worth it for you.
Recommended Model: NRX+ LP 590-4 fly rod
3. G. Loomis Trout/Panfish Spinning Series
Has all three; GLX, IMX, and GL3 rods
Allowing more casting range
Moderate to fast tapered blanks
14 amazing models
Price ranging between $250 and $415
G. Loomis trout and panfish rods are for targeting freshwater species, including trout. This series is one of its own, featuring three kinds of remarkable G. Loomis' technology altogether, namely GLX, IMX, and GL3. Now that we have poured in the details of GLX and GL2 let's discuss IMX and GL3.
GL3 is the up-gradation of GL2 and is also the blend of different materials with graphite. The purpose of doing is so is still the same; to create robust, fast action rods that are viable in all fishing situations. But what sets them apart is the fact that GL2 still will bend more than the GL3. IMX is an up-gradation of GL3 and adds more value to the blank than GL3 does.
G. Loomis trout and panfish rods are moderate to fast tapered blanks, so the rods only butt mid-section when pulled by a giant trout. This added stiffness in the rod is also suitable for controlling the lures.
Recommended Model: SR783-2 GL3
4. G. LOOMIS NRX+ LP Fly Rods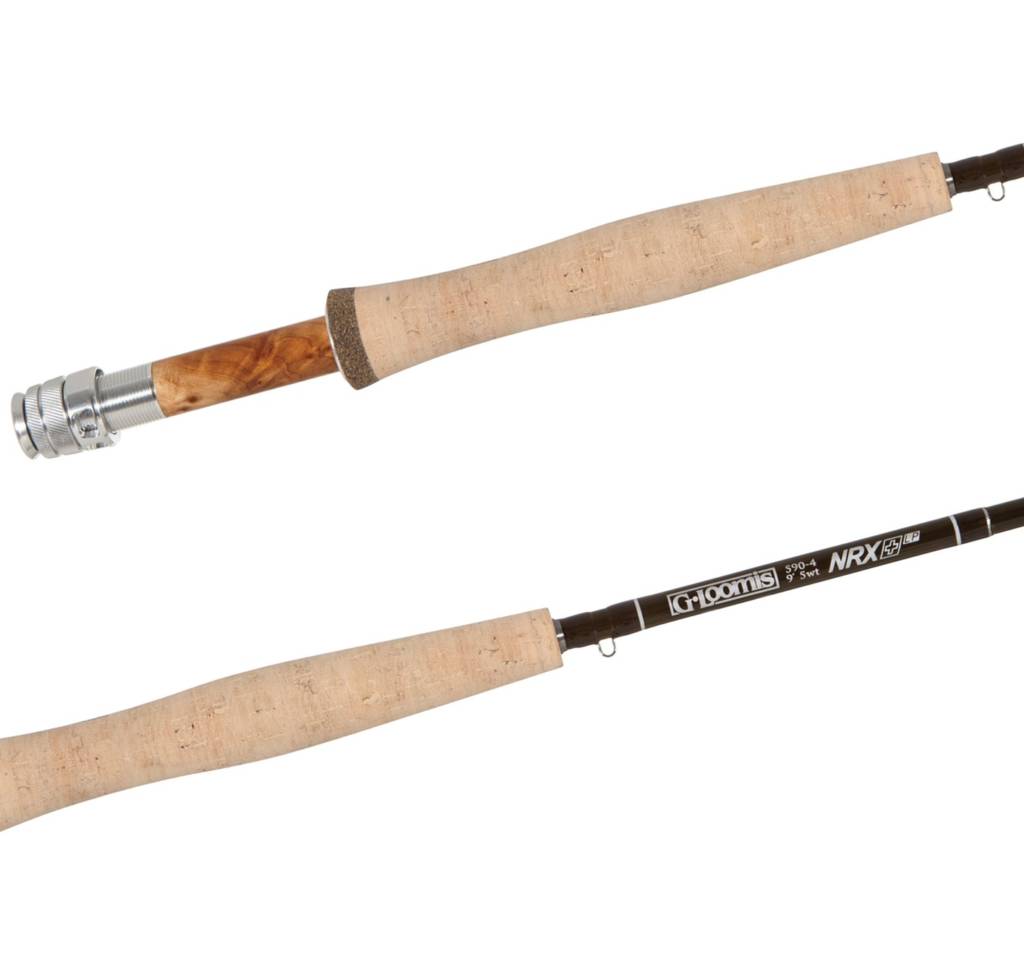 For pull off challenging angling scenarios
NRX + LP technology
Works over wide casting ranges
Smooth presentations on water
Features Recoil guides
When someone asks about G. Loomis NRX trout fly rod review, we have nothing except all the good things to state.
At times, anglers have to encounter troubling situations in waters where the stakes of winning a trout are low. This G. Loomis NRX trout rod is built for wiggling through such cases. These rods are priced at $795, and this is one way to guess the efficiency and durability of these rods.
Acclaimed as one of the finest rods, the NRX+ LP series is winning hearts for its smooth application and bait presentation on the water. This advancement in the design was brought to you by NRX technology. Proven as the best and exquisite technology on the board, G. Loomis has made light as feather rods using it. It has upgraded adeptness that doesn't let go of you in wavering states. Multi-tapered design is re-conceptualized here as well.
This series is a significant breakthrough in the Fishing Rod Market and makes up for one of the best G. Loomis trout fishing rods.
Recommended Model: NRX+ LP 383-4
5. G. Loomis IMX-Pro Shortspey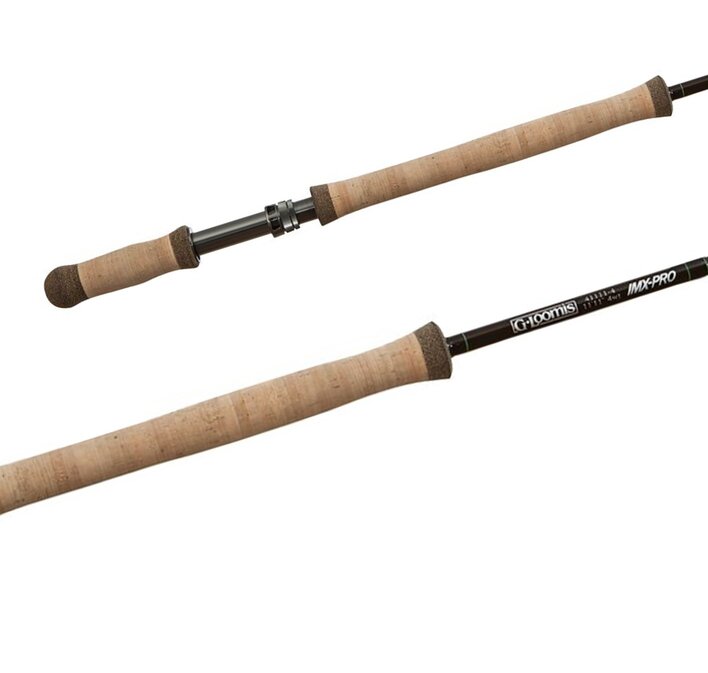 Series includes 4 models
One consistent size: 11 feet 11 inches
Medium-fast action fly rods
Conduit Core technology
4-piece models
Best for Spey Casting
Two-handed Rods are causing a revolution, and you should join too.
Here's why?
With two-handed, you can throw a cast at 30 to 40 feet. It's a breeze. And if you are a pro, you can easily cast 100 feet from the dock with ease. You also achieve the level where you have power over the fly's depth and speed with these kinds of rods.
No limitations with G. Loomie IMX-Pro Shortspey!
These rods have Conduit Core Technology; the excess of over-weighing graphite in the blank is replaced with other fibers to help casters channel their energies in casting and not lift the rod. Rods also feature a Multi-Taper design; it balances the overall blank by adding material in potential break-points and saving other spots.
G. Loomis IMX pro trout Spey complements the picky and finicky trout in your alpine streams!
Recommended Model: IMX-PRO 590-4
Rounding up the best G. loomis trout fishing rods
We hope this article of the best G. Loomis trout fishing rods was of good use. G. Loomis believes in making and delivering the paramount fishing rods because the right gear is the real deal-maker.
Guess what?
You can get yourself acclaimed as a trout angler by having one of these rods with you. They are light, durable, and have high performance, all the qualities of a rod for fishing a trout. Although buying one can put a strain on your pocket, but the investment is worth it.
If you want to read more about other brands of fishing rods, take a look at this page.