Outfitting your rod with a reel is important when fishing. A reel is a cylindrical part of the trout fishing gear. It is primarily used for storing the line and helps ensure that the cast is accurate and smooth.
In this guide, we cover some tips to help you select the best trout spinning reel. We will also review the six best trout fishing reels. This way, you will have an easier time selecting a trout spinning reel after reading this review.
Why Use Spinning Reel When Fishing for Trout?
Reels are of different types, including spincast, baitcasting, and spinning reels. The spinning reel is preferred by anglers due to its open-faced design that adds flexibility, while also providing accuracy needed for catching trout.
Trout fishing with a spinning reel is recommended since it can help cast any weight of the lure. Moreover, beginners will find it easy to use the reel for catching fishes.
Spinning reels have a large capacity for fishing line. They are easy to maintain and deliver high casting performance with minimum drag.
What Features to Look For Selecting the Best Trout Reels
Light Reel
The best reel for trout fishing is one that is compatible with a light fishing rod. A light spinner reel has the advantage of quicker response time that allows anglers to quickly retrieve the catch, which is critical when fishing trout. A heavy-duty reel built for medium or heavy spinning rod allows maintaining a stable grip but it doesn't allow quick retrieval of the catch.
Anti-Reverse Lever
An important aspect to look for when shopping for a reel is the anti-reverse lever. The lever prevents moving of the spin reel handle as the fish pulls the spool and takes more line.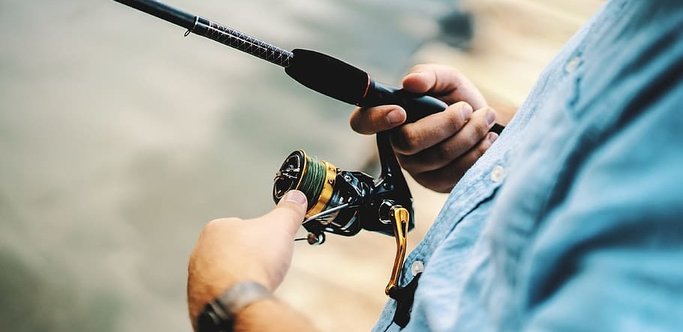 Weight
The weight of the line is also an important consideration for selecting the best spinning reel. For fishing trout in small rivers or ponds, the best spinning reels have the line weight between 2 to 8 lb. A fishing line over 8 lb. is recommended if you want to fish trout in larger lakes or rivers.
Gear Ratio
Gear ratio should also be a consideration when buying a trout spinner reel. A higher gear ratio is important as it allows the line to be retrieved more quickly. A quick recovery of the reel is critical when fishing for trout.
Drag System
The drag system helps in maintaining the applied resistance when spinning for trout. The drag system of a trout spinning wheel is depicted in pounds. For trout anglers, an ideal weight for the drag system is about 10 pounds.
Ball Bearings
Ball bearings are also a crucial criterion when looking for a trout spinning wheel. A reel with ball bearings operates without a grinding weight. Therefore, pick a reel with stainless steel ball bearings.
The video below shows the different parts of a spinning reel that should be considered when buying a trout spinning wheel.
Who Makes the Best Trout spinning Reels?
1. Shimano Stardic Ci4+ 2500FB
Features
7 bearings
Weight: 5.6 oz
7 lbs front drag
G. Ratio: 6:1
Magnumlite Rotor
Shimano Stardic Ci4+ provides a smooth reeling experience due to its advanced features like carbon-infused technology (CI) that makes the spinning reel ultra light yet durable. Hagane gearing results in high precision when casting the line for catching trout.
The Built-in Dyna-Balance Magnumlite rotor results in an extra smooth casting experience. Additionally, it boasts the flagship Fluidrive II system and Shimano propulsion technology that minimize line issues. The X-ship technology adds to the gear's durability due to reduced friction between the gear and spool shaft. This also results in longer casts, making it great for both offshore and inshore action.
The trout reels have a high gear ratio of 6:1, leading to a quick and smooth retrieval. The high-quality reel is available in different sizes but we recommend 1000 and 2500 sizes as they are ideal for lightweight and medium-weight fishing rods.
The only thing that seems to be missing with the product is a reverse protection lever. The addition of this feature would have resulted in a more comfortable fishing experience.
2. Pflueger Supreme XT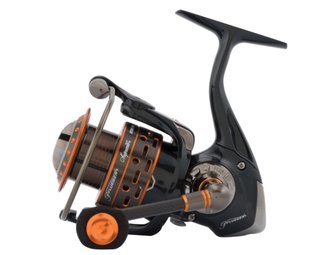 Features
10 bearings
Weight: 9.6 ounces
Sealed carbon 10 lbs max drag
G. Ratio: 6.2:1
Anti-corrosive body
Pflueger Supreme XT comes with 10 stainless steel ball bearings that are corrosion resistant. It has a magnesium body that enhances its strength without burdening the rod with excess weight.
The braid ready spool allows the braid to be tied directly to the spool. This provides convenience when setting up the gear for fishing, saving precious time. The EVA handle makes retrieving the line smoothly. The trout reels are specially designed to allow casting of light baits.
Design features, such as SMART retrieve also makes these spinning reels particularly good for precise fishing line applications, such as drop shotting. But the fishing reel is not recommended for beginners due to the lack of anti-reverse lever.
3. Abu Garcia Revo SX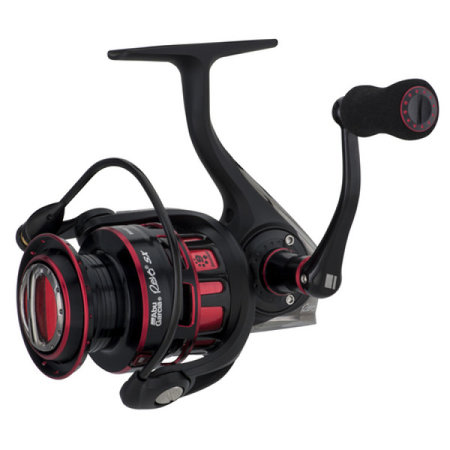 Features
10 bearings
Weight: 6.7 oz.
Carbon matrix 10.29 drag
G. Ratio: 6.2:1
Reverse lock lever
If you are looking for a spinning reel that is ultralight weight with reverse protection gear, you should consider Abu Garcia Revo SX. It is the best ultralight spinning reel that provides excellent fishing experience due to the carbon matrix body and low weight.
The spinning reel features Inert Molded C6 carbon body that is durable while being lightweight. The product also boasts a unique line management system with Rocket Spool technology. The spool allows the line to run off while producing less friction. The result is more precise casting over long distances.
The arbor of the product is large, resulting in better casting and durability. The product beats others in this list due to low resistance and smooth casting. It may be a bit pricier as compared to other spinners on the list, but the high performance makes it worth the high cost.
4. Daiwa BG2500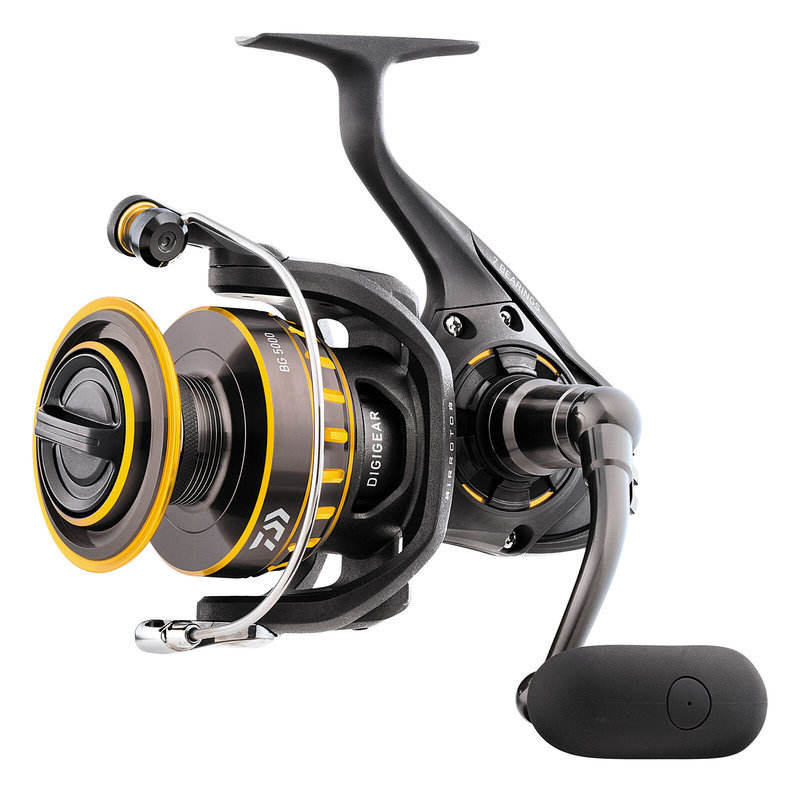 Features
7 bearings
Weight: 9.3 oz.
5 lbs drag
G. Ratio: 5.6:1
Reverse protection lever
Daiwa BG2500 is a more affordable option as compared to others here. But the performance of the spinner is above par. The lightweight product offer low resistance and accurate casting. Daiwa has a compact design available in different models. You can select the heavyweight reel for saltwater fishing and lightweight for freshwater fishing.
The Dynamic Cut Aluminum ABS line features a waterproof drag system. The product also comes with a reverse protection lever that provides convenience when fishing for trout.
5. Okuma Ceymar
features
7 bearings
Weight: 8 oz.
6 lb. max drag
G. Ratio: 5:1
Okuma Ceymar is the best trout fly reel that is economically priced as well. The product has machined aluminum, 2-tone anodized spool. Moreover, the monofilament line capacity is large that allows casting over large distances.
The product boasts a quick multi-disc oiled felt drag system with the maximum drag pressure of 5 lbs. Moreover, the product has machine cut brass pinion gear that results in fast retrieval of the line. It is perfect for 2-6 pound fishing line and ideal for fishing trout as well as sunfish, bluegill, crappie, and other small fishes.
You can select the 30 size for more precise applications like drop-shotting bass and jigging walleye. If you want to catch larger fishes, you can go for the 40 size that supports 10 to 12-pound line.
6. KastKing Valiant Eagle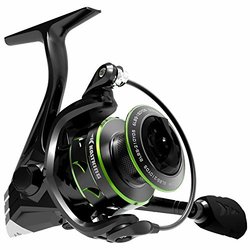 Features
11 bearings
Weight: 8.6 oz.
22 lbs max drag
G. Ratio: 6.2:1
Stainless steel
KastKing Valliant Eagle is built for professionals and beginners alike. Its graphite frame and rotor are durable and offer extreme convenience in casting. The product provides 22 lb of pressure, resulting in convenient fishing in both small and large waters.
The patented Expanded Pinion System (EPS) and sliding stabilizer rod (SSR) features provide amazing stability. It is one of the least priced products you can find in the market that offers great value for money.
The aluminum handle, along with the EVA knob, provides extra control when fishing. The product can be paired with the KastKing BlackHawk II fishing rod for the perfect lightweight setup. It uses a maximum of 10+1 stainless steel ball bearings, leading to accurate casts and smooth retrieves. Overall, this a great value for money product will meet the needs of both beginners and professional anglers.
Conclusion
Buying a high-quality reel is important when spinning fish for trout. Cheap reels without a stainless steel body will break up easily under pressure.
The best value for money products on our list is the Okuma Ceymar and KastKing Valiant Eagle. But if you can stretch your budget a little, you should select Abu Garcia Revo SX that is one of the best available in the market today. The cost may be high but you can rest assured that you are getting the best quality reel-spinning gear that will help in catching lots of trout.