Sage has been around for 40 years, and with one doctrine in focus – to make the best fly rods – it has earned the trust of fly-fishing aficionados from all over the globe now. Every angler out there dreams of the perfection and accuracy a Sage Fly Rod has to deliver. With more than 15 series of fly-fishing rods on board, Sage has knocked out the best fly-fishing companies in the market. And it still continues to stun the new users with its highly functional designs and innovation instilled in its rods.
Catching trout is a deal of joy for every fisherman, and when given the choice of enjoying a once-in-a-lifetime expedition and catching trout, anglers will surely choose the latter. For trout fishing is a worthwhile experience nobody can miss out on.
Trout is a freshwater fish that wanders in all kinds of waters from lakes to oceans and is actually a 'smart' type. Trouts mostly feed on small fishes around them and can be easily spooked even in the calm waters. But with sage trout rods, the world is an oyster for every angler.
Here are our five favorite Sage trout rod series you can get the most out of your fly fishing stunts from.
1. Sage Trout LL (light line) Fly Rod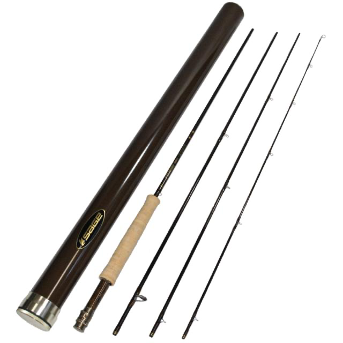 Medium action
Best for wide casting ranges
Lifetime warranty
Pure Light-weight trout rod
Konnetic HD Technology
Works brilliantly with Rio Technical Trout line
Sage trout LL fly rod series is a collection of moderate action rods with rod sizes ranging from 7' 9 to 9 feet. The level of finesse achieved through these 7 light-weight rods is crowd-pleasing.
Honestly, sage Trout LL reviews are the exact representation of the rewarding experience they deliver, scoring it 10/10. These swift rods work best within 50 feet range. We suggest opting for Sage Trout LL fly rods when you are on a mission to throw closer casts (although works perfect with larger casts as well) and wade fishing.
Its premium quality and smooth landing on the water makes it our best pick for catching a trout. The new and improved Konnetic HD technology drives the rod to make tighter loops and gives enhanced control over the line turning the whole trout catching gig into bliss.
Serious anglers with love for trout and a few more bucks in the pocket should definitely hop on the bandwagon to grab one of these seven models to get their hands on a design that delivers what it promises. For catching trout, smooth landing on water is the key, and the Sage trout fly reel paired with the Sage trout LL fly rod has just the right amount of competency to do that.
Recommended Model:  Sage 486-4 Trout LL Fly Rod
2. SAGE Trout Spey HD Fly Rod
Cork butt for increased feel in the hand
Easy to cast streamers
Tighter loops
Extremely responsive rod
Optimized for modern spey lines, tips, and leader
Trouts love to run up and down in waters, and Spey casting is another best technique to catch it. Sage trout Spey HD Fly Rod is a double-handed fly rod that works best if you've enrolled yourself in Spey casting. Sage offers five dazzling models for this series, starting from size 10'3" and going all the way up to 11'3". Rod's line weight goes from 1wt-4wt.
Two-handed rods elevate the experience of casting streamers; you can also get hackles out in the water without thinking twice. Sage trout Spey HD review conveys Spey HD Fly Rod as an ultra-fast action rod with a brilliant performance on lakes, rivers, and streams. Fishing with this rod will get you those long cast in open waters with not much back cast space without a hassle.
Recommended Model: 3110-4 TROUT SPEY HD
3. Sage PULSE Fly Rod
Fast action
Graphite IIIe technology for extra durability
Best for mid-range casts
Lifetime Warranty
Eva fighting butts for saltwater models
Sage Pulse family has got a fly rod to cover all your favorite fly fishing gigs. It has 15 models to attenuate your freshwater, Spey, and switch applications. Fast action and ultra-light rods get the trout.
Although the pulse family does not have Konnetic HD technology, the Graphite IIIe technology covers it really well. It works by adding extra power and sturdiness to the rod, thus improving the rod's ability to make the forward casts even better. It also secures the tippets along the way. The smallest rod size that pulse offers is 7′ 6 and moves all the way up to 10 feet. So, you can choose from 3wt and 8wt rod lines and anything in between.
Recommended Model: 386-4 PULSE
4. Sage X Fly Rod
Konnetic HD Technology
Covers all; close to long ranges
Multi-Application
Casts nymphs, dry flies, and streamers
Fast Action
Sage X is another powerful all-rounder fly rod series with almost 23 models to cover all angling techniques and fit all situations. X series have contoured grips for better handling when throwing the cast. Moreover, the Konnetic HD technology adds durability and robustness to the blank, causing it to form more tight loops and excellent blank recovery. 590-4 X fly rods best handle the trout flies, and 5wt helps to cast at longer distances.
You can customize the rod according to your fishing situation for an accurate and precise aim. X series marvelously catches carnivorous trouts and smallmouth bass in big-river trout situations marking X series another best pick for trout catching. Casting and Fishing had never been so smooth before Sage X fly rods.
Recommended Model: Sage Fly fishing X rod
5. Sage SONIC Fly Rods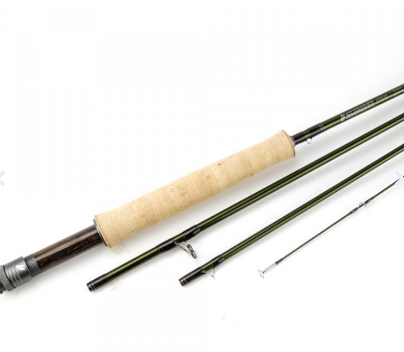 Fast Action
Konnetic Technology
Covers long ranges
Handles flies of all sizes
Anodized aluminum matte slate
Cork grip and Eva fighting butts
Sage Sonic fly rods are a versatile family of fast action rods with high performance and toughness.
The smallest of rods use low-density lines in the close range to bring trout to the bank effectively. On the other hand, high-density lines can catch enormous big-river trouts, bass, and muskies leaving behind any margin for errors.
Any 16 models of Sage Sonic fly rods will perfectly catch trouts from deep and shallow lakes. With quality baits in hand and a supporting line, Sage Sonic fly rods are Alaska trout anglers' favorite.
Recommended Model: 5wt. 9'0″ sage sonic fly rod
In Closing
A spinning tackle can never top off the joy of catching a trout with fly rods, so whether you are catching a big-river trout or skittish stream one, you have to try out a Sage fly rod once to get that FEEL.
You may not master trout fishing all at once, but thoughtful designs and high-performance SAGE fly rods will help you stand out of the crowd, ignoring amateur mistakes made at the beginning of angling like a boss.
Choosing the rod that best suits your 'choice of location' is of utmost importance, and so is investing in high-quality rods. If you have eyes for trout at a more considerable distance, opt for rods with larger rods and sturdy butts for a 'go-get it's like scenario. Conversely, for 2-pound trouts, you can retire to smaller rod sizes and low line weights with delicate presentations.