If there comes a Maserati in a fishing tournament, it is none other than the Abu Garcia reel. ABU is a brand with experience of a hundred years and the faith of thousands of anglers. The spinning guys crave for untangled line and rugged grip. And that's why Abu Garcia spinning reels are the life and soul of sport fishing.
Today, we'll explore the best Abu Garcia reels for amateur trout anglers to professional Bassmasters. So fasten your seatbelts; we're going on an errand to Abu Garcia inventory.
1. Abu Garcia Revo MGXtreme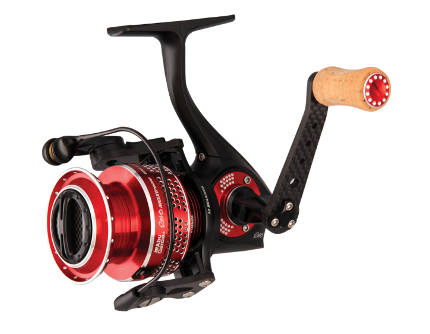 World's lightest spinning reel
All-new design
C6 carbon body
AM Gearing system
Comprehensive packaging
Abu Garcia took up the challenge of the fishing realm: to produce an ultralight yet powerful reel. The MGXtreme is the resulting product of this approach. It features a one-piece X-Mag alloy gearbox to lighten this Abu Garcia reel to the weight of a feather – 5.6 ounces.
The manufacturer has a long list of exotic nomenclatures. In short, MGXtreme is the lightest pair you can get your hands on. You can't allow a reel to fetch the centre of weight towards you while you're using a sensitive and ultralight rod to avoid it.
The critics argue that Abu Garcia synthesized a super light product, and they ignored other essentials in doing so. Well, this is not entirely true! The rotor is engineered with carbon fibre and magnesium hybrid to cut down excessive weight. However, the aluminium gears, 12 bearings, and carbon drag ensure rigid and long-lasting performance.
MGXtreme is available in sizes 20 and 30 with a 6:2:1 gear ratio. What stands out is its packaging. This Abu Garcia spinning reel comes in a nylon case with two replacements for the handle: cork knob and EVA knob. If it isn't enough, you'll also get a spare and shallower aluminium spool. Now, it looks like a steal.
You can buy it here
2. Abu Garcia Pro Max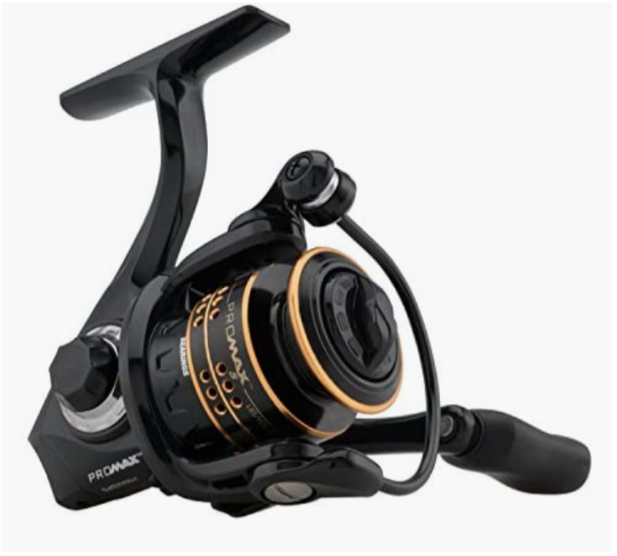 Rocket Line Management system
Graphite body frame
6+1 bearings
Aggressively priced
Available in a range of sizes
Speaking of Abu Garcia reels, one can't overlook Pro Max! It is an intersection of Revo and Orra production lines – high in quality and easy on the pocket. This Abu Garcia spinning reel invokes impressive details at a reasonable price point.
It incorporates the Rocket Line Management system to enhance casting distance. Then, the slow oscillation and Rocket spool lip design improve the retrieving mechanism. Lastly, the Everlast bail system is installed for durability. Now, we'll retrograde to verify these claims.
Although the bail system is enduring, the bail itself is pretty loose. The reel contains felt drag and only a 5:2:1 gear ratio. Overall, this Abu Garcia spinning reel feels appealing to the eyes and lightweight in hands. It doesn't miss accuracy, construction, and affordability, even more so.
The handle is quite sturdy that can be detached to fit on both sides. The eminent benefit it offers is the sizes, ranging from SP5 (6lb drag) to SP60-C (20lb drag capacity). Given the cost and contents, it is the best Abu Garcia trout reel. We'd suggest buying size 20 or 30 to lure freshwater trout, bass, or walleye.
You can buy it here
3. Abu Garcia Revo IKE
Integrated drop-shot clip
Specialized in finesse techniques
Innovative EVA knob
Smooth drag
Ergonomic colour scheme
Abu Garcia Revo Ike is based on the prototype developed by the professional bass angler, Mike Iaconelli. This Abu Garcia reel is the epitome of perfect balance – exceptional conduct, economical cost, exquisite cosmetics.
First thing first, it is an eye-catching piece of equipment. The accents of deep-purple and midnight-blue gradient stir up impeccable confidence. What does a novice need on the bank of running water? A rod coupled with the Abu Garcia spinning reel and fundamental skills intensified with self-efficacy.
The looks are merely a token of gratitude. Ike lineup consists of top-of-the-line features. Gear ratio, line management, and drag system are no different than MGXtreme models. However, the rotor and body of this Abu Garcia spinning reel are made out of pure carbon. Besides, 9 HPCR bearings and a standard roller bearing ensure effortless spin. The drop-shot keeper and flared handle are tiny but game-changing features.
At a glance, you might take it as a mediocre reel overhyped due to iridescent paint. But this is a misleading instinct! Ike spinning reel is a real gem, so is its low profile counterpart. It provides smooth and speedy oscillation that encourages all-day light or medium finesse fishing.
You can buy it here
4. Abu Garcia Revo SX
IM-C6 body construction
Machined aluminium spool
First-rate Abu Garcia trout reel
Slow oscillation system
Best value for money
Abu Garcia has equipped Revo SX with the latest technologies available. And the fact you get it for $150 makes it coveted on the shelves. Why should someone spend this much bucks? We'd say, why not!
This Abu Garcia spinning reel is manufactured in Korea with computer simulation for precise alignment. It also exhibits an Insert-Molded carbon body and one-piece Al gearbox; these terms translate into a feathery yet heavy-duty tool.
The Garcia corporation generally targets a variety of customers. If you want an Abu Garcia for trout fishing, Revo SX is the closest reel that seems specialized towards this end. Its features – Rocket line management, graphite rotor, braid-ready spool, and slow oscillation – are directed to pick up line swift and fast. Revo SX gives you the control everyone desires to land more trout or smallmouth bass.
This Abu Garcia spinning reel has unique features such as K-clutch anti-reverse and steel components. Although it comes with a 6:2:1 gear ratio and 17lb drag, it is not suitable to fight stubborn fish, especially in windy weather. Still, Revo SX is the best Abu Garcia trout reel because it provides an extensive recovery rate over a wide area of 140 yards.
You can buy it here
5. Abu Garcia Elite Max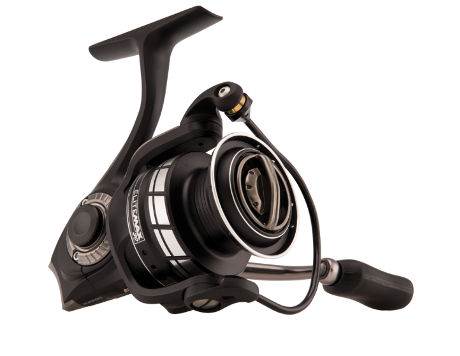 Budget-friendly Abu Garcia spinning reel
Stainless steel shaft
Carbon-matrix hybrid drag system
Six variants for all fishing maniacs
Best Abu Garcia reel for beginners
Remember the dilemma of enthusiast anglers: Either you break a bank or crack the crank. Now, it's over, thanks to this Abu Garcia spinning reel. Elite Max is available at the same price as Pro Max, but it's jam-packed with recent features introduced in the Revo lineup.
The Max series is acknowledged to provide solid reels with affordable price tags attached to them. To date, Pro Max is the best-selling sub $100 Abu Garcia spinning reel. However, Elite Max shines brighter at a few crucial points.
It has a powerful carbon drag system and a high-speed gear ratio. Meanwhile, it is not only an Abu Garcia trout reel. It gives the muscles and strength you need to lure a catfish or so. Furthermore, the body frame, bail hardware, line management, and spool resembles Revo; whereas, the 6+1 bearing count keeps Max's legacy intact.
The designer went with standard black and silver paint. Of course, you won't expect first-rate finishing from a $70 reel. Still, Elite Max is the most versatile reel a beginner can settle on. If you go through online tackle websites, you'll find several "versus posts" between Elite Max and top-notch models. The fact that there is a comparison is self-evident of its unequalled value.
You can buy it here
Summing up the best Abu Garcia spinning reels for trout fishing
It was a tested list for the five best Abu Garcia spinning reels. Hopefully, you've chosen one by now. If not, have a glimpse of the below headlines.