St. Croix has been through a long journey of making and perfecting the fishing rods and has reached the levels where they are fully optimized and functional for your fishing gigs. The struggle of 72 years has made them one of the best fishing rod producers globally.
And St. Croix is not coming slow!
The legendry fishing rods have moved anglers from all around the globe. Each St. Croix tagged rod is handcrafted with fine attention to detail and has stood out for its minutely analytical approach in fishing rods.
With an experienced crew and amazing workmanship, St. Croix facilities leave no stone unturned to get you only the best pieces of equipment when it comes to fishing. The company is now selling more than 90 rods and apparel of all sorts; dry bags, humidifiers, backpacks, croakies, and St.Croix decals to set your tone for angling.
Let's dive into the 5 Best St. Croix Trout Rods that should be part of your fishing arsenal so you can get our hands on to catch ample rainbow trout this season.
1. St. Croix Trout Series Spinning Rods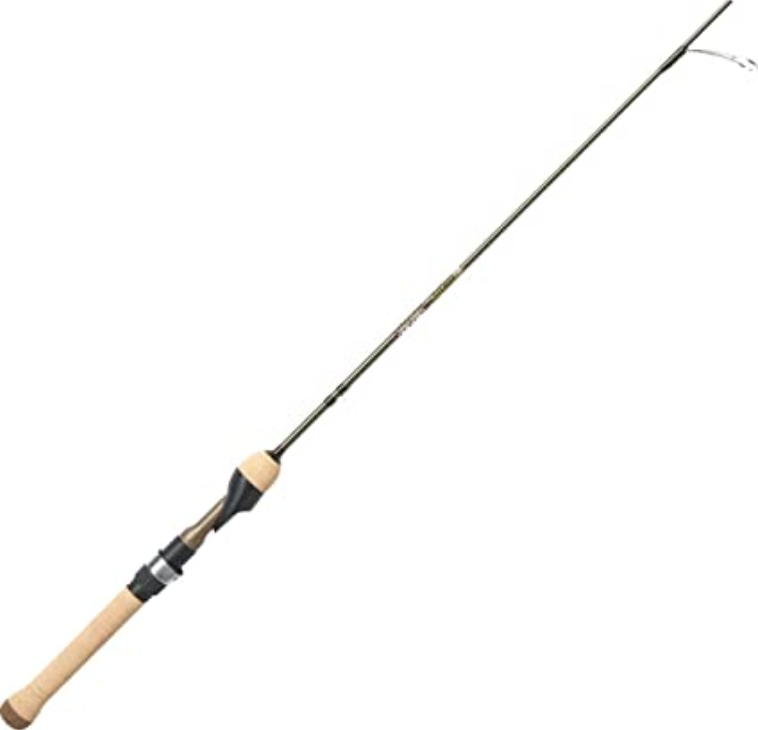 Blend of mid and High-modulus Graphite fibers
Fast Action
Light/Ultra-light
Length varying from 4'11" to 7'
Cork handles for enhanced grip
Five-year Warranty
St. Croix trout series has the finest assortment of spinning rods for trout fishing; offers high performance and durability. Build with mid/high-modulus and high-strain graphite fibers; these lightweight, fast action rods are the hallmark of skill and refinement.
This series has 6 models with sizes ranging from 4 feet 11 inches to 7 feet; all of them have a sensitive tip that feels all the bites from the fish and a powerful blank that pulls fish out of the water with minimal effort.
All the St. Croix trout rods are light/ultra-light (power) and fast-action, which means they are best for subtle presentations and ideal for catching trout. When paired with light lines and light lures, these rods make the best trout fishing gear recipe.
Discerning Anglers have endorsed St. Croix trout rods for fishing trout because they are sensitive and the strongest rods in the market. Also, these rods are very economical, priced between $110 and $150.
Recommended Model: TSS56ULF2
St Croix mojo trout fly rod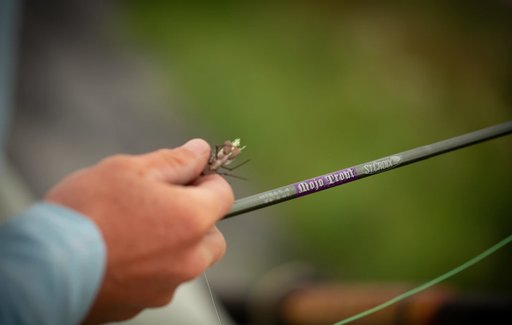 Made with high-modulus SCIII graphite
Moderate-fast action rods
Have both; 2 and 4-piece models
Improved grip via cork handle
Kigan hook keeper
If ICAST 2018 has approved, the St. Croix mojo trout fly rod must be a great deal, and you'd be relieved to know that it is. These rods are special on the outlook, and accomplished anglers of the world have also lauded their performance.
The reasons are pretty self-explanatory. Mojo Trout fly rods are made with graphite fibers that offer a high degree of stiffness and low specific gravity. The rods are super light; the smallest rod weighs only 2.2 ounces, and the longest 9 feet weighing only about 3.9 ounces.
Another great aspect of this St. Croix mojo fly rod series is that it has 4-piece models, makes splitting and transport easy. These rods team up well with 2wt to 7wt lines to target the trout that can give you a tough time in waters. The common St. Croix mojo trout fly rod review is that it makes casting smooth and endows with more casting distance.
Recommended Model: MT865.4
3. St Croix Eyecon Spinning Rod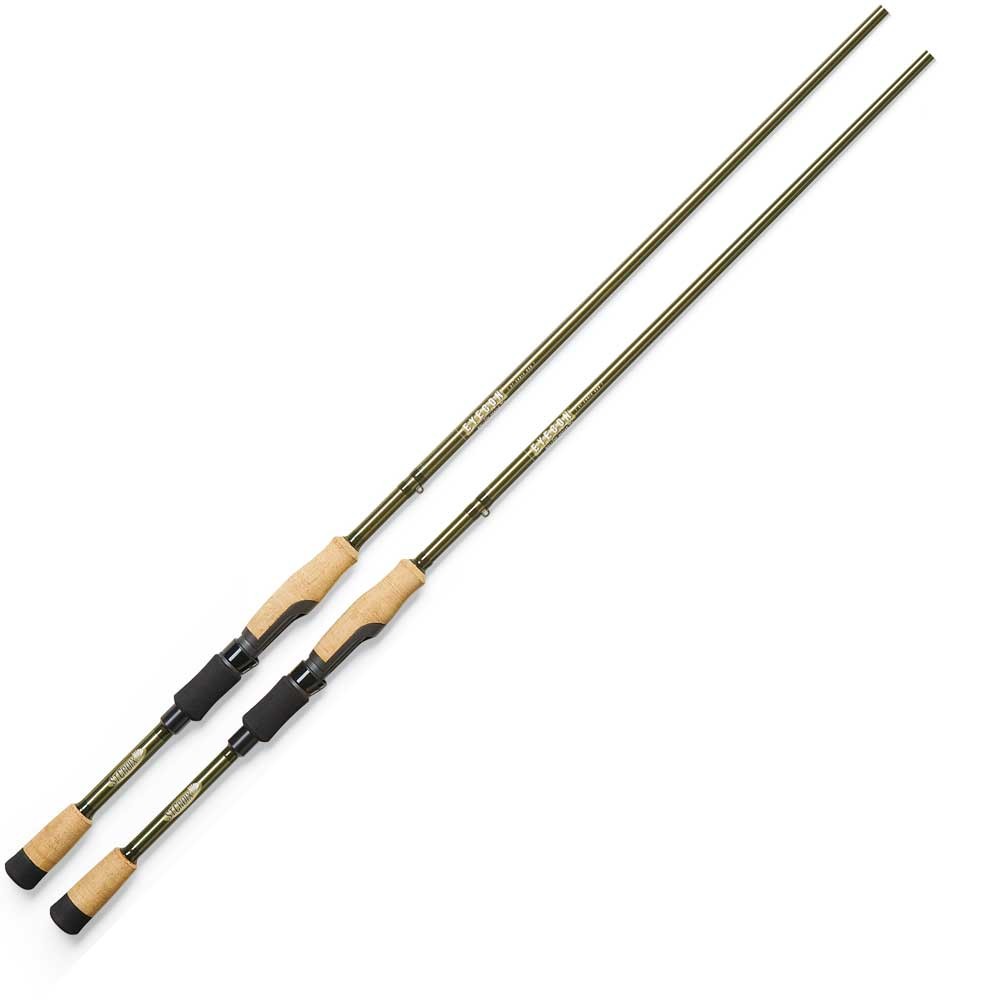 Hard-wearing aluminum-oxide rod guides
Features split grip handles
Medium/ Medium-Light Power
Moderate/Fast/ X-Fast-action
5-year warranty
St Croix Eyecon rods have enormous strength and varying sizes; the size starts from 6 feet 3 inches and goes up to hitting the 8 feet rod size. Medium Light spinning rods work best with the lures in 1/8- to 1/2-ounce range, allowing you to set the hook more rapidly. Such power rods perform brilliantly on both salt and freshwater.
Although St. Croix has 11 of such Eyecon spinning rod rods and is popular for walleye, they work equally well with trout. The reason is the perfect combination of graphite and linear S-glass fibers giving ultimate tensile strength to the rods without adding more weight to them. That is why these rods have slim but sturdy blanks that outshine other rods made from common fibers.
Premium-grade cork handle maintains the hand-grip on rods at all times during the fishing gigs.
Recommended Model: Eyecon spinning rod 6'6″
4. St. Croix Triumph Spinning Rod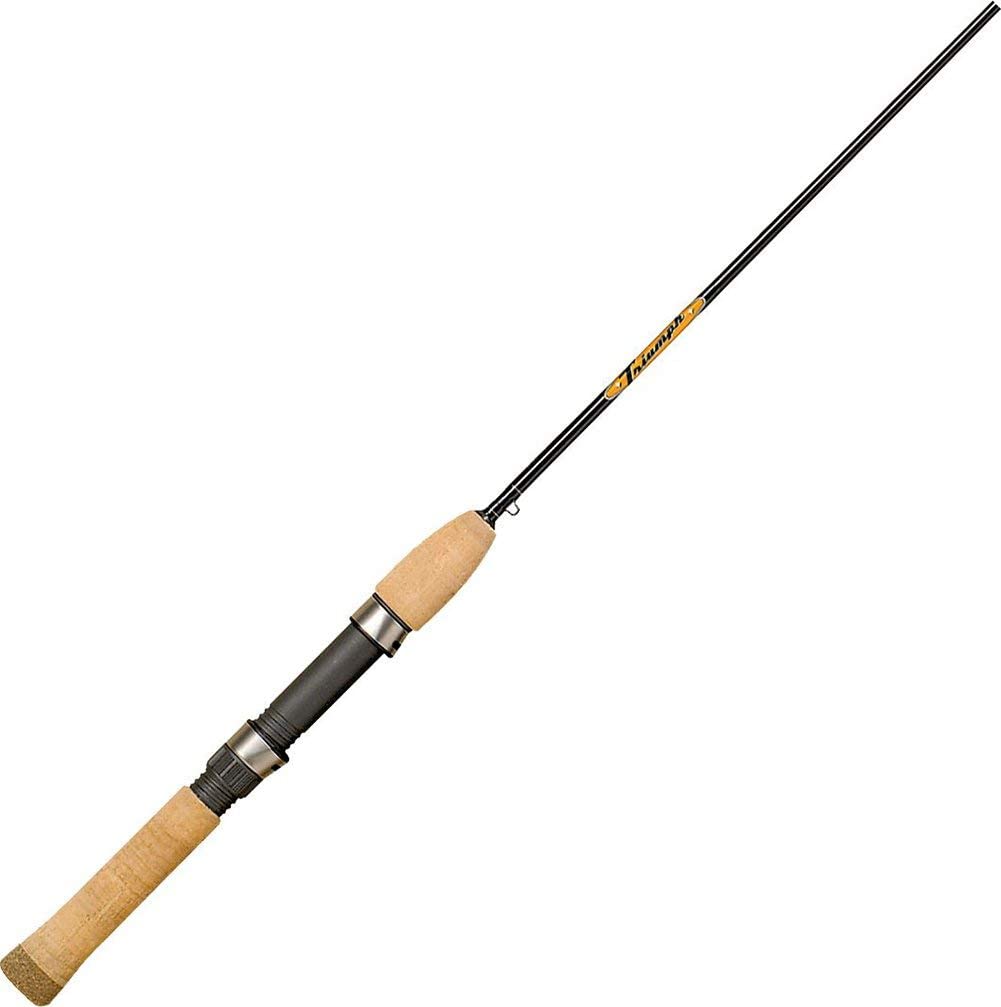 Finest quality SCII carbon
Impressive power
High sensitivity rod
UL/L/ML/M/MH power rods
Perfect for fishing trout
St. Croix Superstar Service in case of damage due to poor workmanship
St. Croix, this invention is by far the most praised and valued. Triumph spinning rod is what you call 'a right blend of right features; sensitivity and potency. Devoted anglers must check this section out for easy-on-the-eyes rods.
These rods are all fast action, having their tips very sensitive. So, when the trout takes the bait, it senses it immediately for you to set the hook and not miss a chance at big fish. Also, this amazing St. Croix triumph spinning rod series comes in a variety of sizes that you can choose from. They offer 5 feet rods as their smallest models and 7 feet and 6-inch rods as their largest.
Although these rods' weight goes up as we consider large rods, fishing trout would be heftier with a heavy rod. So, when you are looking at rods from the triumph series, the recommendation is that the rods must weigh the mid-range.
Recommended Model: TRS66MF
5. Mojo Yak Spinning Rods
Designed for kayak anglers
Medium-light/ Medium/ Medium-Heavy; has a lot of backbone
Light-on-weight
High-grade quality
Sensitive rod with IPC mandrel technology
Another combination that is making rounds is Kayaks and Trout. There is hidden love for Kayak in every angler. And the one who knows how to use a kayak to get the trout out of its hole is the real champ.
St. Croix designed these Mojo Yak Spinning rods, honoring their love for Kayak and trout. Mojo Yak Spinning rods also grabbed the ICAST 2018 from the saltwater category and have been kayak anglers' favorite to fish with.
These beautiful rods are a blend of SCIII carbon fibers and Integrated Poly Curve mandrel technology (IPC): incorporating more sensitivity and smoothness into the rod at the same time. You rapidly get the hunch of subtle fish biting. Also, all of Mojo Yak rods are fast action and Medium-light/ Medium/ Medium-Heavy powered.
Recommended Model: MYS76MLF
On the whole
In the legacy that St. Croix has created, it has kept the interests of anglers above all, and that is why each rod is exciting to fish with and adds more credibility to the owner's rod collection.
So, strike, fight and land the trout with zero excuses this time!
The best part about these rods is that St. Croix ambassadors field test each one of them. They also share their expertise with the engineering teams working for St. Croix, so the efficiency of the rods is up to scratch. They also put forth new ideas to constantly improve the design, weight, action, and power, and St. Croix treats you with the best fishing rods in the market.